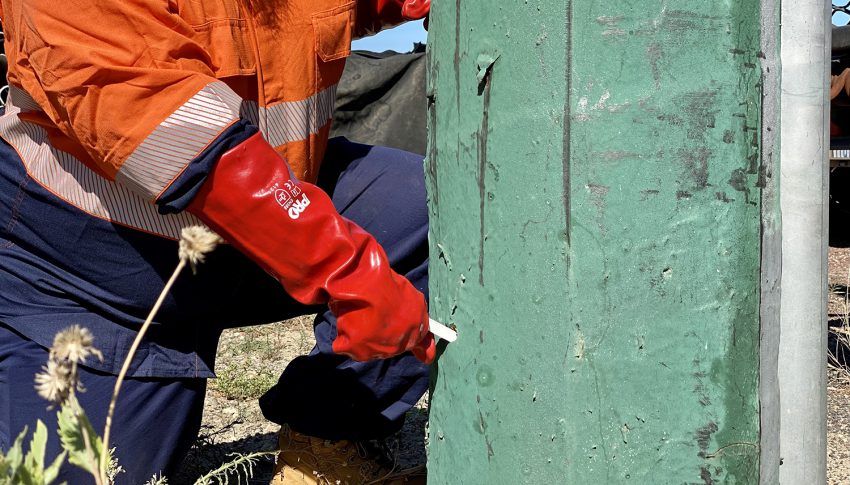 OsmoFume® Fumigant System
OsmoFume is a patented solid dazomet fumigant. Its innovative stick-like design makes for an easy, clean, and safer application. The compact design of the OsmoFume stick allows room for three times the amount of copper-based accelerant to be used when compared to powder fumigants.
OsmoFume performs best when used in conjunction with Hollow Heart® CB, a copper-based liquid preservative that promotes mitc production from dazomet. The Hollow Heart CB formulation also contains a boron co-biocide and specialized wetting agents that enhance copper and boron penetration within the treatment zone and quickly work to arrest active decay.
An Advancement in Fumigant Technology:
Less Risk




- Dusting and the risk of accidental release are virtually eliminated, reducing exposure to the applicator and the environment




Effective


- Compact stick design provides a controlled dose with triple the space for a copper accelerant
- Increases dazomet contact with copper-based accelerant
- Boron and copper go to work immediately
- Wetting agents serve to improve copper and boron penetration
within the treatment zone


Environmentally Preferable


- Eliminates localized spills
- Packaging system reduces both plastic consumption and waste disposal
Hollow Heart®

CB Concentrate
(liquid internal treatment)
Hollow Heart CB concentrate contains a combination of copper and boron that provide deep, long-lasting protection against decay. Diluted with water, Hollow Heart CB becomes a 5.84% copper (2% copper as metal) and 5.0% boron solution designed to be applied by internal injection, brush, or spray. 
Hollow Heart CB holds an Environmental Claim Validation from UL Environment. This distinguished validation confirms that Hollow Heart CB exhibits volatile organic compound (VOC) content below the limits defined by the South Coast Air Quality Management District (SCAQMD) for the wood preservative category of SCAQMD Rule 1113. Hollow Heart CB is the only liquid internal treatment that carries this distinguished validation. With a VOC level well below 350, Hollow Heart CB also complies with Sacramento Metropolitan Air Quality Management District (SMAQMD) Rule 442.